IRA Rollover Gifts Build Scholarships, Save Taxes – Joe and Marilyn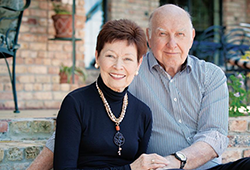 Joe and Marilyn (Colby '63) Willems believe in Abilene Christian University.
Their faith in our students and faculty inspired them to give to an endowed scholarship named for Marilyn's late father, T.W. Colby, a long-serving ACU agriculture professor.
The couple wanted the scholarship to continue to grow and to help more students, so they began to donate through their Individual Retirement Accounts (IRA) with a charitable rollover.
Thanks to a new tax law, if you are age 70 1/2 or older, you can make a charitable gift from your IRA account to support your favorite nonprofits, such as ACU.
A charitable gift through an IRA is quick, simple and can potentially help lower your taxes. Gifts made from an IRA, up to $100,000, are not reported as taxable income, and these donations also qualify as a required minimum distribution.
Contact the Office of Gift Planning today to learn more about how an IRA charitable rollover can work for you - and advance ACU.