Turning a Vacation Home into an Enduring Legacy - Dr. Vic ('58) and Estellene ('59) Allen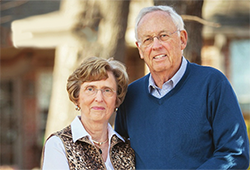 Gifts of Property
Dr. Vic ('58) and Estellene ('59) Allen of Garland, Texas, embody the concept of an Abilene Christian University legacy family.
Their family tree shows more than 30 relatives who graduated from ACU between 1926 and 2010. Their grandson, Chad Karels ('15) a senior, is the 13th Wildcat in four generations descending from Vic's parents, Victor ('33) and Eloise (Powell '36) Allen.
Vic, Estellene and their three daughters decided to continue their legacy of benefitting ACU students with a recent gift of their vacation home. The sale of this beautiful house will provide funds for two science endowments, ACU's new science facilities, a basketball scholarship, and the new Wildcat Stadium.
Contact the Office of Gift Planning today
for help finding ways you can use your non-cash assets to leave a personal legacy, investing in the lives of current and future ACU students.